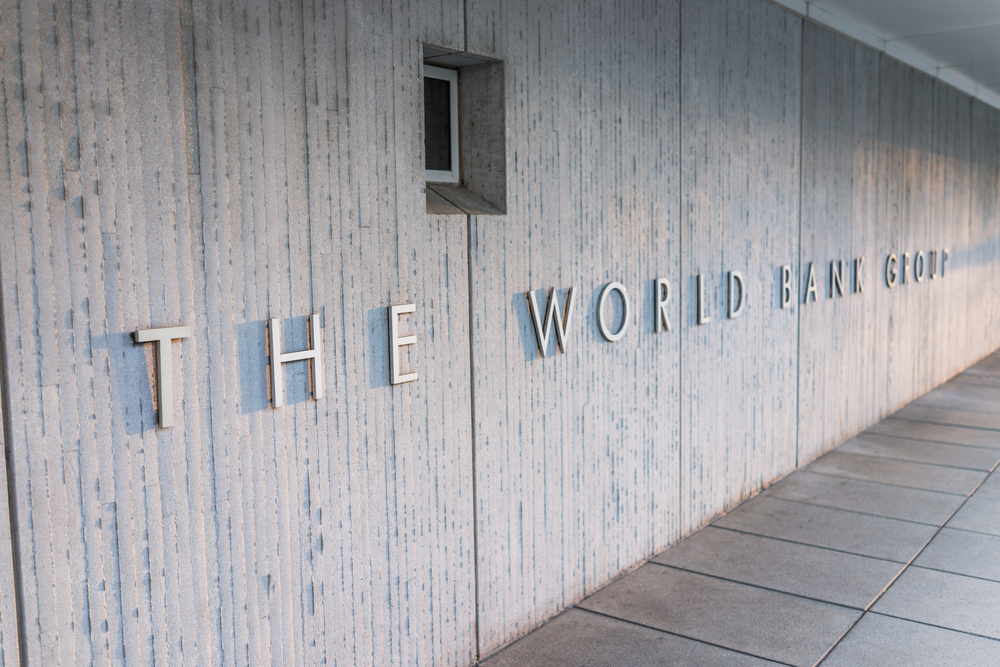 The World Bank sign in Washington DC. Image rights: Kristi Blokhin via Shutterstock
Yesterday the UK Jobs report from S&P Global revealed employers have an uncertain outlook for 2023 which could add strain to the hiring market as employers continue to tread carefully.
Commenting on the results which disclosed a decline in permanent placements and a softer rise in vacancies, Claire Warnes of KPMG UK said, "Employers who hold their nerve and continue to invest in skills in particular are likely to benefit most when the economic upturn comes."
In its half-yearly checks, financial institution the World Bank warned that fresh setbacks to the global economy – including high inflation, high energy prices and continued lockdowns in China – could result in a second global recession within three years.
Motorists celebrated yesterday as the average petrol pump price in the UK fell to 150p, the lowest we've seen since Russia first invaded Ukraine in February 2022.
Online retailer Amazon announced plans to shutdown three of its UK warehouses which puts 1,200 jobs at risk. The warehouses include those in Doncaster, Gourock and Hemel Hampstead.
The markets remained steady yesterday, with no major data releases across the board affecting market standings.
Yesterday we heard small business optimism in the US declined to 89.9 in December 2022, marking a 6-month low for the index. The National Federation of Business suggests high inflation is fuelling the sentiment.
Make sure any upcoming transactions are protected against the risks of sudden market movements. Secure a fixed exchange rate now with a forward contract; call your Business Trader on 020 7898 0500 to get started.
GBP: No reaction from the pound as retail sales surges
Yesterday markets heard retail sales in the UK rose to 6.5% in December 2022, markedly above expectations of 2.5% and up from 4.1% in November 2022. While the change was unexpected, the pound did not react and remains steady against the euro and US dollar.
Helen Dickinson, chief executive of the British Retail Consortium said the rise in spending remained below inflation, "making December the ninth consecutive month of falling volumes."
EUR: European stocks on rocky ground
Market watchers looked to the stock market and saw European shares extend their losses yesterday, following the eight-month highs seen on Monday as investors considered hawkish comments from the European Central Bank.
The annual inflation rate in the Euro area fell from 10.1% in November to 9.2% in December 2022. This was the lowest reading in four months. The next release is due on January 18th.
USD: Economic optimism falls
Following small business optimism declining, US economists saw the Economic Optimism Index fall to 42.3 in January 2023, from 42.9 in December and considerably below the 20-year average of 49.6.
Despite this data, the US dollar remains relatively unchanged this morning.
This pessimistic sentiment is no surprise as it's been in dark territory for the last 17-months as Americans had a negative outlook on the economy, despite inflation easing.
For more on currencies and currency risk management strategies, please get in touch with your Smart Currency Business trader on 020 7898 0500 or your Private Client trader on 020 7898 0541.