America's interest rate predicted to rise by 75 basis points in today's Fed meeting
By Christopher Nye November 1st, 2022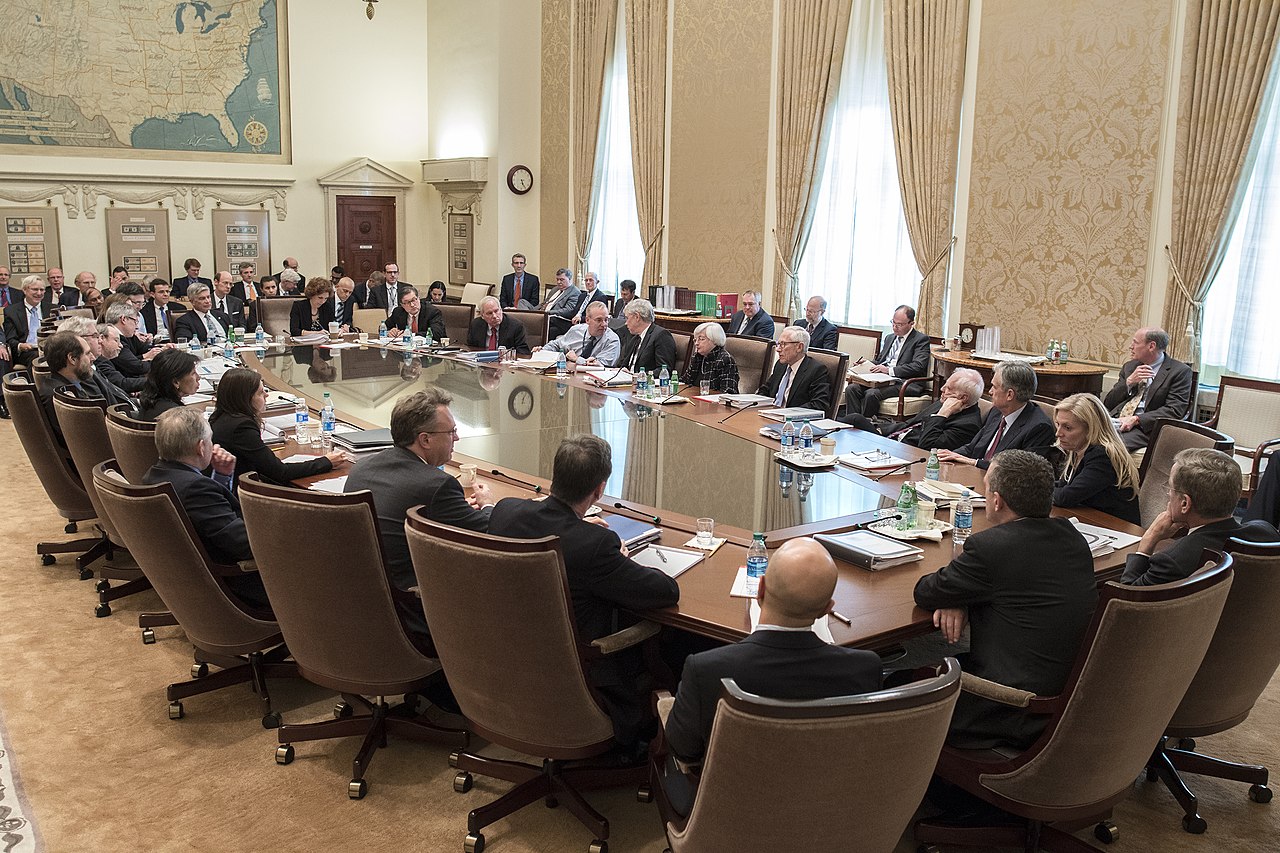 Federal Open Market Committee (FOMC) in Washington DC April 2016
Over the course of yesterday sterling was choppy against the dollar but ended the day marginally up from where it started. It was a similar story for the GBP/EUR rate which ended the business day largely unchanged from where it began.
Yesterday, markets saw the UK's final PMI data for October which came in slightly better than expected. The index was revised slightly higher to 46.2 in October 2022 from a preliminary estimate of 45.8, however this still points to the steepest contraction since May 2020.
Britain's former health secretary Matt Hancock has been suspended as Tory whip following news that he will be entering the jungle for this year's I'm a Celebrity …Get Me Out of Here!
Nationwide's housing prices fell yesterday, declining 0.9% compared to the previous month. Annual prices for October rose 7.2% however this was lower than market expectations of 8.3%, and the lowest rise since April 2021.
Finland's prime minister declared "all eyes are now on Hungary and Turkey" in a bid to urge both countries to approve their Nato applications.
Over in the US, the Supreme court's chief justice John Roberts has temporarily blocked the release of Donald Trump's tax returns. The decision follows Trump's petition to review court rulings which allowed the House ways and means committee to receive 6-years' worth of Trump's tax filings.
Markets will be listening closely for the Federal Reserve's latest interest rate. The decision will be made at 6pm UK time today.
Make sure any upcoming transactions are protected against the risks of sudden market movements. Secure a fixed exchange rate now with a forward contract; call your Business Trader on 020 7898 0500 to get started.
GBP: sterling largely unchanged against dollar and euro
While it is a quiet day for data releases, the Bank of England will announce its latest interest rate and monetary policy report tomorrow at lunch.
In its last meeting, the Bank raised the UK's interest rate to 2.25%. It also announced a short-term bond-buying scheme to restore market conditions after Kwasi-Kwarteng's mini-budget. Since Kwarteng's dismissal, Jeremy hunt and Rishi Sunak have U-turned on the majority of Truss's economic plans, so markets will be listening closely to the Bank's decision and any updated policy.
GBP/USD over the past year
EUR: Big day for PMI across the eurozone
The euro is still weaker overall against both sterling and the dollar, following the highest inflation on record.
This morning markets have seen Germany's Balance of Trade for September. The trade surplus in Germany fell to €9 billion in September of 2022 from €16.1 billion a year earlier. Exports reached a new record high of €142.4bn and imports rose at a faster 30.7%
We've also had S&P global manufacturing PMI for multiple countries in the euro area, including France, Spain, Italy and Germany. Eurozone PMI will be released at 9am.
USD: Federal Reserve to decide on interest at 6pm
The Federal Reserve will decide on its latest interest rate today at 6pm UK time. The Fed is expected to raise interest higher to 4% in an attempt to tame unruly inflation. Policymakers said that it needed to 'move to and maintain' a more 'restrictive policy stance to promote maximum employment and price stability.
ADP employment change data for October will be released at lunchtime today. In September, private businesses in the US generated 208k jobs, and today that number is expected to fall to 190k. The ADP's chief economist Nela Richardson said that there are "signs that people are returning to the labour market. We're in an interim period where we're going to continue to see steady job gains"
For more on currencies and currency risk management strategies, please get in touch with your Smart Currency Business trader on 020 7898 0500 or your Private Client trader on 020 7898 0541.