Sterling stable as cross-party talks continue
By Christopher Nye April 15th, 2019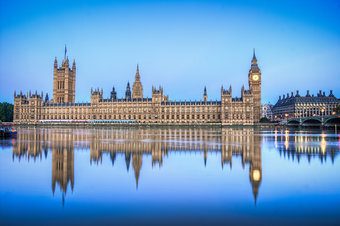 Sterling has been stable over this weekend, as cross-party talks between the Conservative and Labour benches are set to continue. Both sides say progress is being made, with an internal deadline of ten days' time set up to 'take stock'. Whether an eventual resolution will emerge, however, remains to be seen.
The euro ended last week positively, as fears of a US-EU trade war were somewhat alieved by the two's agreement to reopen trade talks.
In the US, the markets are looking forwards to Wednesday's balance of trade figures and Thursday's retail sales.
Make sure to protect your funds against any instability on the horizon. As we saw last week with Trump's Tweet on EU tariffs, a single message can cause the markets to move – so lock in your exchange rate with a forward contract. Find out more by calling your Business Trader on 020 7898 0500.
GBP: Cross-party talks carry on as Parliamentary recess begins
Cross-party talks are continuing during the parliamentary recess in the hope of ending the Brexit deadlock. David Lidington said on Saturday that talks were progressing well, with both sides 'testing…particular ways in which we could move forward'.
The talks do not have a set timescale, but there is an expectation for the Conservatives and Labour to 'take stock' in ten days' time. In the meantime, working groups have also been set up in areas like security and labour rights.
The pound has been relatively stable over the weekend, with a few important releases over the coming week. On Wednesday, we will see the UK's year-on-year inflation rate and, on Thursday, retail sales, expected to have declined month-on-month and year-on-year.
EUR: Euro starts week on upward trend
The euro strengthened this weekend against the pound and dollar, after a week with some mixed economic releases and fears of a US-EU trade war. The latter have been put a little on hold as the two announced they would progress with trade talks at the end of last week. It remains to be seen, however, whether these talks will cover just the narrow area of industrial tariffs and proof of origin that the EU wants to amend, or will also head into agriculture and other subjects that they would like to avoid.
This week, like for the pound, is relatively quiet. Tomorrow, we have the ZEW economic sentiment index for Germany and, on Wednesday, Italy's current account figures and balance of trade. German flash manufacturing PMI data will come out on Thursday.
USD: Dollar weakens as Trump attacks Fed Reserve
The dollar weakened slightly over the weekend against the pound and euro, as Donald Trump attacked the Federal Reserve on Twitter, saying 'If the Fed had done its job properly, which it has not, the Stock Market would have been up 5000 to 10,000 additional points, and GDP would have been well over 4% instead of 3%…with almost no inflation. Quantitative tightening was a killer, should have done the exact opposite!'
Tomorrow we will see US industrial production, expected to have slowed slightly year-on-year, from 3.6 point to 3.2, and, on Wednesday, we will see the important balance of trade figures for February. Thursday's also an important day, with retails sales and manufacturing flash PMI.
For more on currencies and currency risk management strategies, please get in touch with your Smart Currency Business trader on 020 7898 0500 or your Private Client trader on 020 7898 0541.