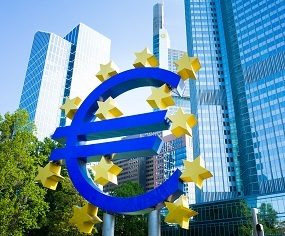 Outlook – July/August 2014
Economic indicators from the Eurozone have been mixed at best for the past month whilst inflation has remained far below the ECB's 2% target. This negativity is all in spite of the European Central Bank (ECB) landmark move to cut interest rates at the June meeting.
Continuously poor inflation figures – including in Germany, one of the Eurozone's better-performing countries – sent alarm bells ringing towards the beginning of June. This led the ECB to announce that it would take decisive action – long-awaited by some – to help curb inflation levels and lend assistance to the struggling Eurozone economy.
The central bank announced a lower interest rate, from 0.25% to 0.15% – the euro had been sliding since March and the decision was much in line with what the market expected. In a landmark move, it also cut the deposit rate for banks from 0% to -0.1% in order to motivate them to lend to businesses, which should help stimulate growth in the Eurozone economy. This is the first time that a central bank has set a negative interest rate.
Banking crisis lurking over Portugal
Concerns about accounting irregularities relating to the parent company of one of the biggest banks in Portugal sent stock markets in Europe and the US falling in response. Shares in the Banco Espirito Santo were suspended, leading the Lisbon stock exchange to drop by more than 4%, while its Madrid and Frankfurt counterparts fell by 2.7% and 1.8% respectively. Stocks on Wall Street also opened lower following this news. However, reassurance from the bank that it has adequate funds to face this problem helped to soothe euro markets in the aftermath.
At the time of writing (15th July), mid-market rates were at €1/£0.7933 and €1/$1.3594
Eurozone – Forecast
We do not expect the ECB to take further actions to loosen monetary policy until it has had a chance to process the results of its latest moves. Any action – including the potential introduction of a quantitative easing programme – would spell weakness for the euro.
Meanwhile, the Portuguese banking incident has doubtless made euro investors nervous about a possible full-blown banking crisis in the Eurozone – we await further developments.
For expert guidance and help on how we can help with your international money transfers, call 020 7898 0500 or email us at info@smartcurrencybusiness.com