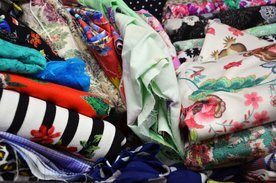 Loved by celebrities, bloggers and shoppers alike, LOVE's journey from a small family business with manufacturing ties to an international fashion retail phenomenon has been rooted in its core values of 'family, love and a passion for fashion'.
Rising from humble beginnings as one concession run by three people, LOVE has grown tremendously in the past decade, pushing out concessions in double digits and with a thriving online retail presence, supported by an expanding team of individuals who are genuinely passionate about the brand and what they do.
When it rains, sell umbrellas. Successful businesses know how to weather storms, turning them into positive opportunities. A report by PwC noted that clothes shops were among the quickest to fall during the 2011 high street slump. Undeterred, LOVE channelled its resources from the high street to online retail, by capitalising on Managing Director Louis Sallas's tech savvy IT background in order to refine the business into the digital presence that it is today, both on screens and behind the scenes.
Together with his brother Nicky, Louis introduced systems and processes to ease business operations. This included building their own stock system. Normally a headache for fashion companies, this customised system allowed LOVE to juggle demand from buyers both virtual and in LOVE's many concession stores.
Working with trends, LOVE always has to be on top of its game, whether it's designing or manufacturing clothes, or selling them through their website, concessions or wholesale. A business that evolves at a snap of the fingers, fashion takes no prisoners. Successful businesses need to react very quickly to trends, and the challenge is to keep costs down, without losing pace.
"We purchase the bulk of our fabrics from South Korea and Italy," says Louis. "Fashion is a fickle business, and we don't have the luxury of forecasting currency exchange rates in advance. If we need euros, we need them now.
"We started off using banks for our international payments," continues Louis. "With them, all systems were automated. You couldn't get hold of or talk to anyone, and you didn't know if you were getting a good deal. With Smart Currency Business, we can pick up the phone, speak to our trader and make the exchange. It's quick, easy, and gives me more time to run the business. The traders don't get paid on commission, so I feel that they're really trying to get me the best possible price for any amount of currency purchased.
"When LOVE started with Smart Currency Business, the banks were still trying to compete, but Smart Currency kept getting more efficient, with a personalised service that gives us better rates with no hassle. In the end, the banks stopped contacting us, because they couldn't offer us a better service. As our business expands internationally, online and through international wholesale, it's becoming even more paramount that we work with people and businesses that we can trust to find the best solutions, with minimal fuss. Smart Currency has the knowledge and capability to make this happen."
For more information, get in touch with the team at Smart Currency Business, contact us on 020 7898 0500 or email info@smartcurrencybusiness.com