20 March 2014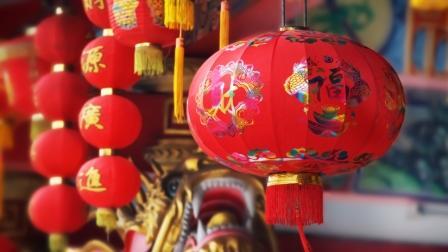 CNY (Chinese renminbi) Current Rate:
CNY10.2710/£1; CNY6.2270/US$1
The People's Bank of China (PBoC) recently announced that it would widen the band around its USD-CNY currency fix from ±1% to ±2%. The doubling of the band will allow the renminbi to trade more freely, while still letting the central bank fix the rate daily, allowing it to retain some control over currency movements. The PBoC has noted that letting the renminbi float with more freedom is a step in the move towards more two-way volatility, and towards a free-floating currency that will not require day-to-day intervention. These appear to be the main reasons for the PBoC's widening of the USD-CNY trading band, but the move is expected to bring about other benefits, too.
China's economy has seen a slowdown in growth over recent months, and major banks have downgraded their growth forecasts for the nation, with Bank of America Merrill Lynch cutting their annual growth forecast from 7.6% to 7.2%. Chinese exports have also shown evidence of suffering, with overseas shipments in February 2014 falling 18.1% from a year earlier – a significant drop given the volume of Chinese exports.
Meanwhile, the renminbi weakened significantly and has stayed weak, falling from a February high of 9.9527 against sterling to 10.2095 mid-March, and more recently crumbling to an 11-month low against the US dollar. Given China's economic slowdown and that the central bank is allowing renminbi to weaken, it can be suggested that one of the factors behind the widening of the USD-CNY trading band is to improve the country's export competitiveness, in order to help China regain volume in the world export markets.
Rates forecast towards the beginning of March suggested strengthening of renminbi against both sterling and the US dollar (see tables below). However the increased bandwidth has opened the renminbi to more free-floating market volatility, causing it to weaken. The lack of central bank concern over the weakening currency suggests that this may be a teething problem in the journey towards a freer float. It would not be surprising if renminbi recoups and strengthens further down the line unless the PBoC tries to keep renminbi weak in order to encourage export activity – which doesn't seem likely in the short term.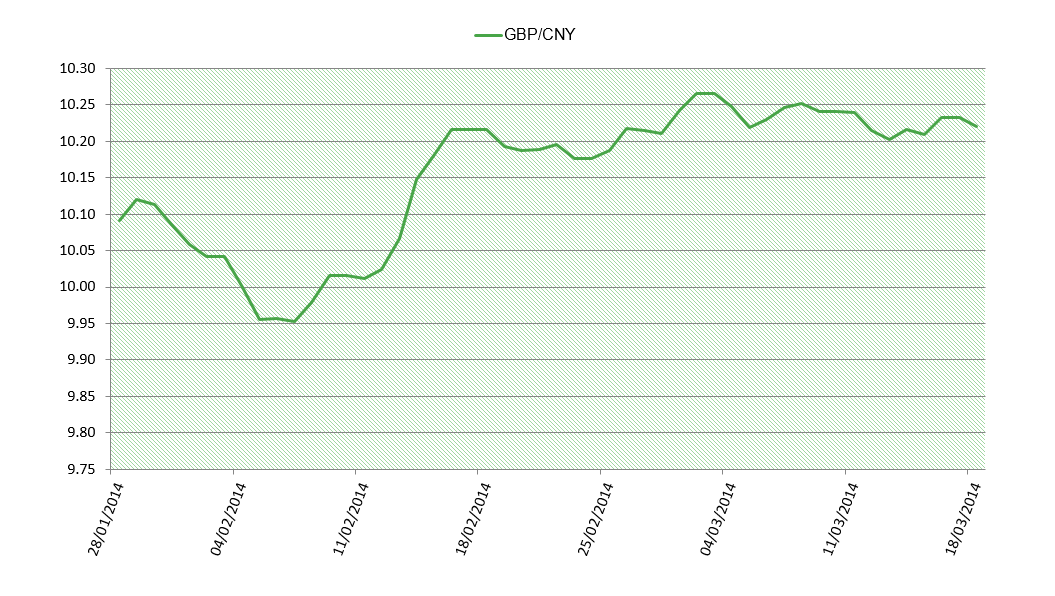 Rate forecasts for GBP/CNY:
| | |
| --- | --- |
| Time Length | Rate |
| 1 month | 10.1094 |
| 3 months | 10.0155 |
| 6 months | 9.8289 |
Rate forecasts for USD/CNY:
| | |
| --- | --- |
| Time Length | Rate |
| 1 month | 6.0900 |
| 3 months | 6.0700 |
| 6 months | 6.0300 |
Forecasts accurate from 20 March 2014. Data taken from Reuters' poll.
Data sourced from GBP/USD and USD/CNY cross.
For help and guidance on making international payments using Chinese renminbi,
call 020 7898 0500 or send us an email
Disclaimer:
The information in this report is provided solely for informational purposes and should not be regarded as a recommendation to buy or sell. All information in this report is obtained from sources believed to be reliable and we make no representation as to its completeness or accuracy.