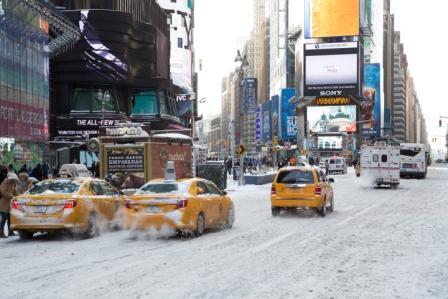 US Outlook – March 2014
Fourth quarter growth in 2013 not as good as first thought
The US economy ended on a despondent note as the US Commerce Department reported a growth rate of 2.4% from October to December last year, a figure significantly down from an estimate of 3.2%. Severe winter weather in February is expected to have a negative impact on productivity, which could potentially drive the growth rate down further.
The US dollar spent part of February weakened against a strong sterling, but remained relatively infirm against the UK currency, even when sterling itself weakened slightly towards the end of the month. This was due to a host of economic indicators like a purchasing managers' index (PMI) and factory orders falling short of expectations. However, encouraging new home sales figures bolstered the weakened dollar, and it will be interesting to note the extent of the impact a potential housing recovery may have on the economy.
Business as usual
It's unclear if the US's mixed economic outlook is partly due to teething problems from new leadership. Janet Yellen took over Ben Bernanke's post as US Federal Reserve Chair in February; however, her ascension from Vice-Chair to prime position meant that economists were already familiar with her opinions and approach to economic policy.
Yellen plans to keep interest rates hovering near zero until unemployment falls below 6.5%. Unemployment figures released at the beginning of March will give a clearer indication of the US labour market and provide greater insight on the current state of the US economy.
US – Forecast
Will Russia and the US 'fall out' over the Ukraine? Probably not, but we could see some strength for the US dollar as its 'safe haven' status comes to the fore in the sabre rattling period. Assuming that everything returns to normal, then the focus will return to how the US economy is performing – and how quickly its programme of quantitative easing comes to an end. These would raise questions as to when US interest rates will be increased.
The question of when quantitative easing will end is easier to answer. Expectations are that 2014 will see the end to quantitative easing, reducing the pressure on the US dollar. Interest rates are a trickier subject. The US Federal Reserve is likely to raise its interest rates before the ECB, but the BoE might beat it to the punch.
These variables make predicting the future for sterling against dollar a challenging task. Given the current levels, we are close to four-year highs for sterling and, ignoring the trend of strengthening sterling, we think it better to be cautious and predict that sterling will weaken slightly. This is, as ever, a prediction rather than a certainty.
For expert guidance and help on how these forecasts might impact your international money transfers for the year ahead, call 020 7898 0500 or email us at info@smartcurrencybusiness.com