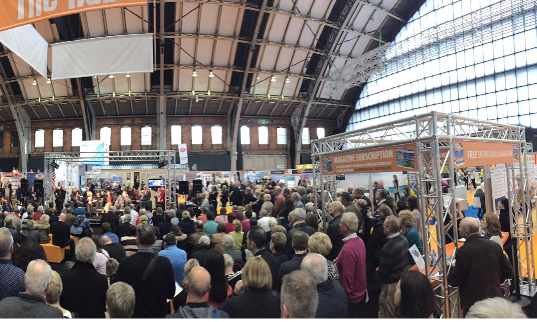 The UK's largest overseas property exhibition had a record attendance over the weekend in a sign that owning a property abroad is coming back into fashion
A Place in the Sun's exhibition in Manchester last weekend had a 10% uplift in numbers on last year, with 7,381 attendees over the three days. This is despite the fall in the value since the last show of sterling against the currencies where most British people buy – Spain, France, Turkey, Portugal and the US. At the 2015 Manchester show, the pound was flying high at EUR 1.40/GBP 1, whereas this week the show began at EUR 1.27. The difference for a buyer with £100,000 to spend is in being able to spend €13,000. Against the US dollar (USD), last year that £100,000 buyer would have had an extra USD 5,000 to spend.
The high attendance is especially good news given the current uncertainty over the UK's Brexit vote, but does it mean that owning a place abroad is becoming "normal" again. Christopher Nye, writer from PropertyGuides.com says it does: "Given the uncertain European situation and worries over the economy, the higher number attending this exhibition is significant. I think we have heard the end of the bad news years and the overseas property industry is ready to get big again. The whole business has great potential at this early stage in its business lifecycle. So far it is mainly lifestyle buyers and we are yet to see any mass movement towards property investment that we saw in the early 2000's. But with better economic data, such as Spain's economy now growing fast, that market could begin to pick up too."
Charles Purdy, CEO of Smart Currency said that while the dip in the value of the pound for those buying Florida villas or Spanish apartments was being noted by visitors to the show, they were not being put off: "We are certainly seeing a much more savvy buyer these days compared to in the last boom. They have been tracking currency rates over the past year and understand the value of getting a forward currency contract."
As well as the estate agents, exhibitors were many ancillary services, including builders, investment specialists, furniture and homeware companies, international removals companies and property lawyers. A Place in the Sun's next exhibition is at London Olympia on 6-8 May and almost sold out for stand space. Following that is NEC Birmingham on 23-25 September.