General Election 2019 – what could it mean for the pound?
By Christopher Nye December 6th, 2019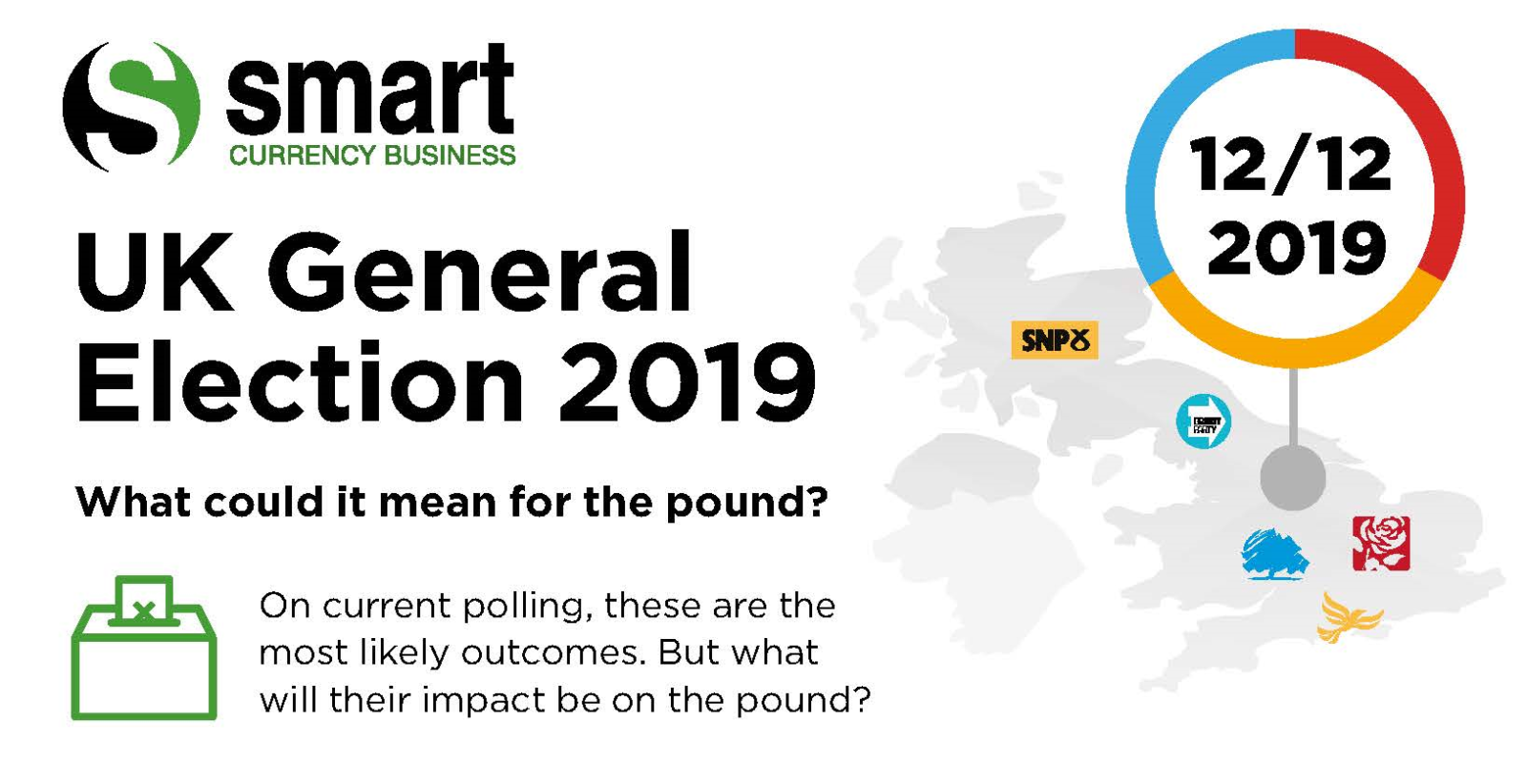 So far, the election polls appear to be doing wonders for the pound, which reached a two and a half year high against the euro and a seven-month high against the dollar this week. However, with sterling already surpassing significant psychological levels before the results have even come in, it raises the question – how much higher could the pound actually go?
A Conservative Party majority is widely seen as the most likely outcome from next week's general election. The party has maintained its lead in the polls so far, with Deltapoll, Kantar, YouGov and more all showing a Conservative win. Analysts predict that a Tory victory would provide clarity over the direction of Brexit and therefore boost sterling.
Although many believe that a Tory majority is nearly certain, we shouldn't rule out the possibility of a hung parliament. With the peculiarities of 'first past the post' and a real chance of tactical voting, it could still be a very close call when the country goes to the booths. A hung Parliament could take a few different forms but, in any instance, it is likely to be negative for the pound. A Conservative/Brexit Party alliance would put no-deal back on the table, whilst a Labour minority government or Remain alliance could breed further uncertainty. Recent polls show a slump in support for both the Brexit Party and the Liberal Democrats, however.
Although a Labour majority is seen as extremely unlikely, we know all too well that elections can be unpredictable, and polls can be wrong. Polls show that Labour has been steadily narrowing the gap with the Tories. If the Labour Party do come into power, it's thought that the pound will weaken due to Jeremy Corbyn's ambitious, left-wing policies and a change of direction for Brexit.
If the Conservatives succeed as predicted, let's not forget that Boris Johnson must still negotiate a trade deal with the EU over the coming year. The current deal covers withdrawal issues but does not firmly establish our future trading relationship, and so the government would have until the end of 2020 to negotiate a comprehensive free trade agreement. The possibility of a no-deal Brexit could, therefore, come into play once again, which may not bode well for the pound.
The truth is, it's nearly impossible to predict the result of this snap election and the pound's movements, so in these uncertain times, it's wise to protect your business from volatility. Call us now on 020 7898 0500 or email us on info@smartcurrencybusiness.com.
Please note our warnings on these predictions.  These are the market expectations of how sterling will react to different General Election outcomes. Experience over the last 15 years has highlighted that forecasting currency movements is a fool's errand and using expectations is very dangerous when managing your currency risk.