Treasury Management Report for Importers and Exporters
Import and export finance explained
Too many UK SMEs are finding it difficult to navigate import and export finance options in the marketplace, and virtually impossible to access these funds to grow their business. Some resort to eating into working capital, while others abandon their expansion plans altogether.
Smart Currency Business's Treasury Management report aims to guide SMEs through the minefield of import and export finance products and difficulties in obtaining finance. Find out about:
Common financial problems facing UK exporters
Types of finance and how to secure them
Improving the efficiency of international payments
Managing currency risk in a volatile climate
The ins and outs of credit insurance
First-hand accounts from other SMEs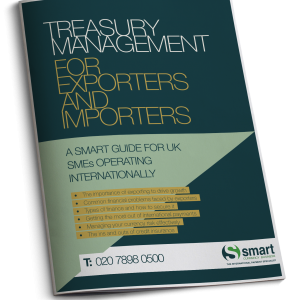 What is the Treasury Management report?
As you have probably already found out the hard way, there is a distinct lack of accurate, reliable information available to import and export businesses on the various facets of treasury management.
Smart Currency Business's Managing Director, Charles Purdy, has faced the same problem in his previous roles as a Finance Director. "I experienced first-hand the many difficulties and uncertainties that are covered in this report, and now know how helpful it would have been had I had access to specialists in finance, international payments and credit insurance," he says.
And so Smart Currency Business has taken the initiative to provide a comprehensive overview of these operational points in order to help fill this void.
The Treasury Management report assists UK SMEs to identify the right types of finance options for their circumstances, to overcome the restrictive lending practices of many lenders to secure much-needed funding, and to then effectively manage the risks associated with using these funds in overseas dealings.
What problems are addressed in the report?
Treasury Management aims to bridge this knowledge gap and provide you with the information you need to help your business take advantage of the growth possibilities available in overseas markets.
First, the report outlines the major contribution that exporting makes to the British economy and the large proportion of revenue it brings to many UK businesses. This data may help you make the decision to expand your business abroad or to reinforce your commitment to maintaining international operations.
It then provides a chapter-by-chapter breakdown on the many different types of business finance options available and tips on boosting your success in obtaining funding; risk management strategies and cost-saving efficiencies which can be implemented for making international payments; as well as a look at the role of credit insurance and how it can positively impact on a business' bottom line.
At each step there are also real-life examples to demonstrate how other SMEs have implemented such strategies and the positive influence this has provided in the short-term and to their longer term prosperity.
How can the information contained within the report help my business?
There is no substitute for accurate, specialist information in helping you to make informed decisions on your business' future.
As such, the Treasury Management report is a useful means of finding answers where you may have felt none existed, obtaining tips on improving the chances of success in applications for funding, discovering new efficiencies and cost reduction methods that can be achieved when transferring funds abroad, and the broad benefits of income protection.
Above all, the report demonstrates that specialist advice and assistance is available to you – advice which may even be of news to your local bank manager!
If you are looking for information on how to successfully grow your business beyond the UK's borders, then the Treasury Management report is a must-read.
Download your free copy of the Treasury Management Report now
Alternatively, contact us on 020 7898 0500 and speak to one of our currency experts who would be happy to help.