October to December Currency Forecast
After the Budget debacle, will growth follow?
Within a month of publishing our Quarterly Forecast the UK's economic plans were overturned. This triggered volatility in the currency markets but has ultimately been to sterling's gain. The new chancellor has postponed the long-awaited Autumn Statement to 17th November, after this week's interest rate decision from the Bank of England.
The market's recent uncertainty illustrates exactly why it is important to stay well informed about what's happening with currencies.
Read our latest Quarterly Forecast, for October to December, to see what major banks are predicting, as well as what our experts are saying about 2023 and beyond.
In this report you will find:
Higher hikes for the BoE's interest rate'
The midterms and the US dollar
Will European industry suffer power outages?
Most extreme currency predictions on record
Download your copy of our Quarterly Forecast now!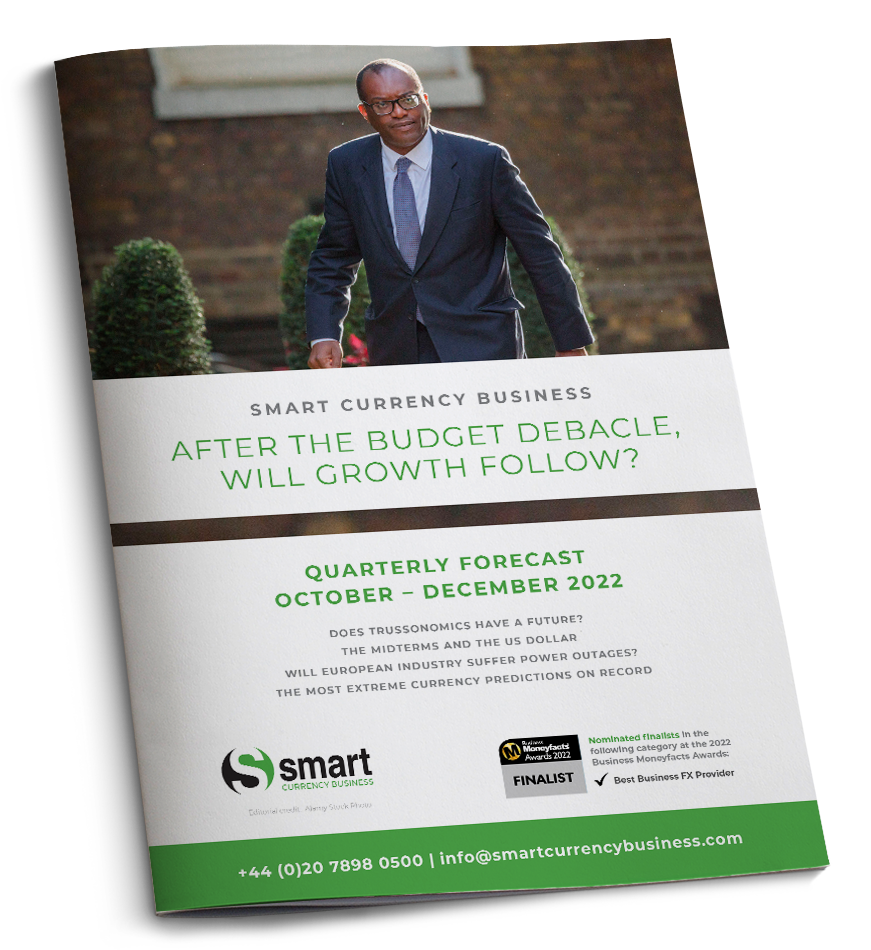 Download the latest currency forecasts
We urge you not to base any business decisions on forecasts which are, in today's world, little more than guesswork.
Smart's traders have the expertise to discuss these issues with you for an educated, experienced, independent view of the currency markets. But our strong view is that currency risk management should focus on protecting your business from any and all market movements, 100% independent of any market view.
What's next for your business?
In this climate of uncertainty, how should you plan for the future?
Our team can help. Please don't hesitate to call us if you have any questions on  020 7898 0500.
What our clients and partners say about our Forecasts:
"Excellent. I get a few forecasts from different companies and Smart's is the first I download"
"Simple and easy to read"
"Clearly illustrated and very informative"
For further information on how Smart Currency Business can help protect your profits and expand your products and services internationally, email
us at info@smartcurrencybusiness.com or give us a call on
020 7898 0500

.