October to December 2018 Currency Forecasts
In these forecasts:
Focus on Brexit, populism and Trump
Economic factors to look out for in the UK, US and Europe
Currency forecasts for GBP/USD, GBP/EUR and EUR/USD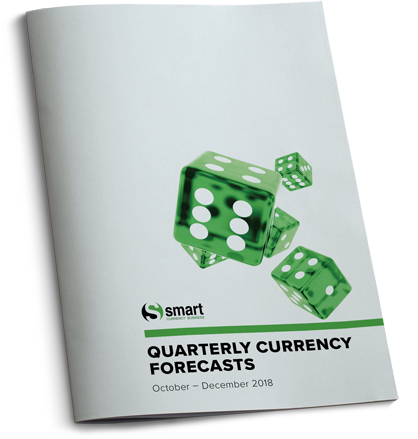 Download the latest currency forecasts
The main aim of our quarterly currency forecasts is to highlight how important currency risk management can be to businesses with foreign currency exposure.
In our years of working in the foreign exchange industry, we have learned that despite what anybody might claim, nobody knows what is going to happen to any given currency pairing from one day to the next. The sad truth is that there is no magic crystal ball to consult; we are often asked what is going to happen to the US dollar six months from now and we hold our hands up – we don't know and neither does anyone else.

It might strike you as ironic that within our currency forecasts we are essentially telling you that forecasts aren't worth the paper they are written on. However, while that is said with tongue firmly in cheek, it does help underline how dangerous forecasts can be if you make a decision based on them that turns out to be wrong.

That is why we work hard to extol the virtues of our BRS (budget, risk, solution) approach. We believe it is the most effective approach to determine each client's requirements. If you're budgeted at a specific level and the markets do not move in your favour, your business could be significantly affected. Take the next three months for instance, there is an 18-cent difference between the minimum and maximum GBP/USD rate predictions. Not many UK SMEs can take those types of swings on the chin and, if you can, then good luck to you.

There has been some significant sterling volatility in recent times, which is almost exclusively related to Brexit. The next few weeks and months are critical – if we secure a good deal, then it is reasonable to expect that sterling will rally across the board. On the other hand, if we exit the European Union without a deal, we could well see sterling sink to levels never seen before. We are not scaremongering – this is a genuine possibility.
In addition, you'll find a summary of the key events over the third quarter of 2018, some of the economic factors to watch out for in the UK, Europe and US, forecast charts, major bank currency forecasts for the next 12 months, and some useful resources. Speaking of resources, why not head over to our Treasury Management White Paper page and download that?
We hope you enjoy reading it as much as we have enjoyed putting it together.
For further information on how Smart Currency Business can help protect your profits and expand your products and services internationally, email
us at info@smartcurrencybusiness.com or give us a call on
020 7898 0500

.