How we support our local community
We're not just passionate about helping our clients grow their companies, our passion for caring and development extends to our local community
Getting inner-city children into sports with Solidarity Sports
Smart Currency Business is proud to be partnered with local charity Solidarity Sports.
Solidarity Sports was set up to give disadvantaged inner-city children the opportunity to play sports together. Their vision is simple: to create 'a world where every child who lives on the margins of society has the confidence to choose any path in life and follow it with strength and skill'.
Since its formation in 2007, the Solidarity Sports' programmes have gone from strength to strength and now include healthy eating, art and residential field trips.
Volunteer
Smart Currency Business's staff organise and volunteer at monthly events held for the children at Solidarity Sports. Past events have included ice skating, bowling, trips to the Science Museum and days out at Hyde Park.
If you or your company are interested in getting involved with Solidarity Sports, please get in touch for more information.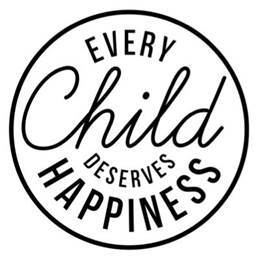 Sean Mendez – Founder, Solidarity Sports
"Our number one aim is to increase the confidence of every child we work with, which we do through a variety of fun activities. We are delighted to be partnered with Smart Currency Business. Their support is critical in helping us make a difference to the children we work with."
Alex Bennett – Head of Corporate Sales, Smart Currency Business
"Solidarity Sports works to transform the lives of the children they work with for the better. On top of fundraising, our staff love volunteering each month, and it's great to see the impact all of our support is having on the children and the charity."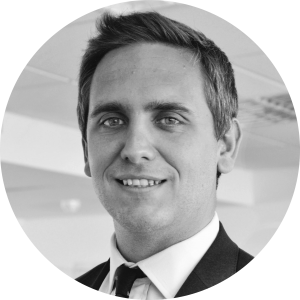 Raising awareness on City Giving Day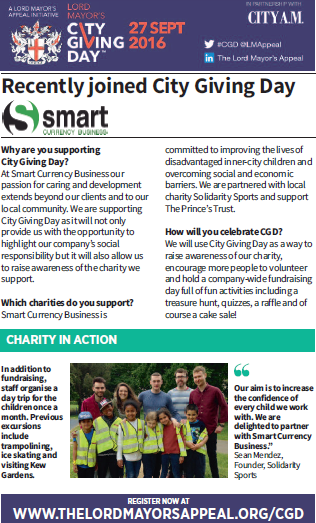 Organised by the London Lord Mayor's Appeal, City Giving Day helps businesses raise awareness of the support they provide to local communities and charities.
An annual celebration, City Giving Day 'unites the City of London in celebrating the differences made and lives changed through its charity and community partnerships'.
We'll raise additional funds on City Giving Day
With our company-wide Pirates of the Caribbean-themed fundraising day, featuring a Caribbean buffet, treasure hunts, pirate games, quizzes and more, we'll raise extra money for the charities we support.
To take a look at pictures and see how much money we raise follow us on Twitter @SmartCBusiness!
This City A.M. panel will highlight some of our charity work.
We'd like you to get involved with our fundraising activities. Just drop us a line at csr@smartcurrencybusiness.com to tell us you're interested.