Microbiological Solutions Wins GrowthAccelerator's 'Globetrotter' Award
By Ricky Bean June 11th, 2014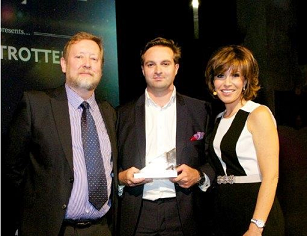 Microbiological Solutions, a microbiological testing and compliance house specialising in cosmetics and toiletries, is proud to announce that it has won the Globetrotter category at GrowthAccelerator's The Brave & The Bold awards.
The award was presented to Microbiological Solutions by Smart Currency Business, the category sponsor, for significant expansion into international markets within the past 18 months.
Exclusively for GrowthAccelerator clients, the inaugural 'The Brave & The Bold' awards celebrated the successes of the country's brightest and most ambitious businesses. The ceremony was held on the evening of June 5 in London's Mayfair.
Carl Hasty, Director of Smart Currency Business, said: "Microbiological Solutions has been rewarded for its impressive identification of an overseas market opportunity and for capitalising on that – expanding overseas for the first time – and doubling the size of the business in the process. Smart Currency Business is delighted to have been able to sponsor an award that fits so closely with our strategy of supporting businesses that trade internationally. We congratulate Microbiological Solutions on winning the inaugural Globetrotter Award."
Angela Davies, Managing Director of Microbiological Solutions comments: "The cosmetics market is not only truly global, but it is also highly competitive. Although we knew there was a great opportunity, we were also aware that our offering had to be absolutely right in every way. The dozens of international clients we have attracted over the past 18 months and winning this Award validates everything we have tried to achieve."
Skills and Enterprise Minister, Matthew Hancock, said: "It is part of our long term economic plan to ensure Britain is the best place for small businesses to start up and scale up. Government backed services like GrowthAccelerator help to create the right environment for enterprise. These awards celebrate the best of British businesses which are vital for our economy and I congratulate everyone for their exceptional successes over the past year."
Stephen Peacock, Director of Operations at GrowthAccelerator says, "The standard of entries for The Brave & The Bold has been incredibly high and the competition amongst shortlists was fierce. Those selected as winners have achieved truly remarkable growth and serve as shining examples of British enterprise at its finest."
GrowthAccelerator is currently supporting over 15,000 high growth businesses in England in achieving their growth ambitions.
Find out more at www.growthaccelerator.com
Join the high growth debate @GrowthAccel #BraveBold
Click the links below to read coverage of this article in the press: