October to December 2020 Currency Forecasts
"Any approach to currency risk management should be 100% independent of any market view."
Major global economies face a perfect storm. Most are looking at economic calamity as a result of the pandemic – and Brexit – while some face political instability too.
The next three months will be crucial for GBP, EUR and USD.
Our Quarterly Forecast for is the perfect primer to help you understand the winds that will buffet your currency, your budget and potentially your profits. Download your copy of our Quarterly Forecast now!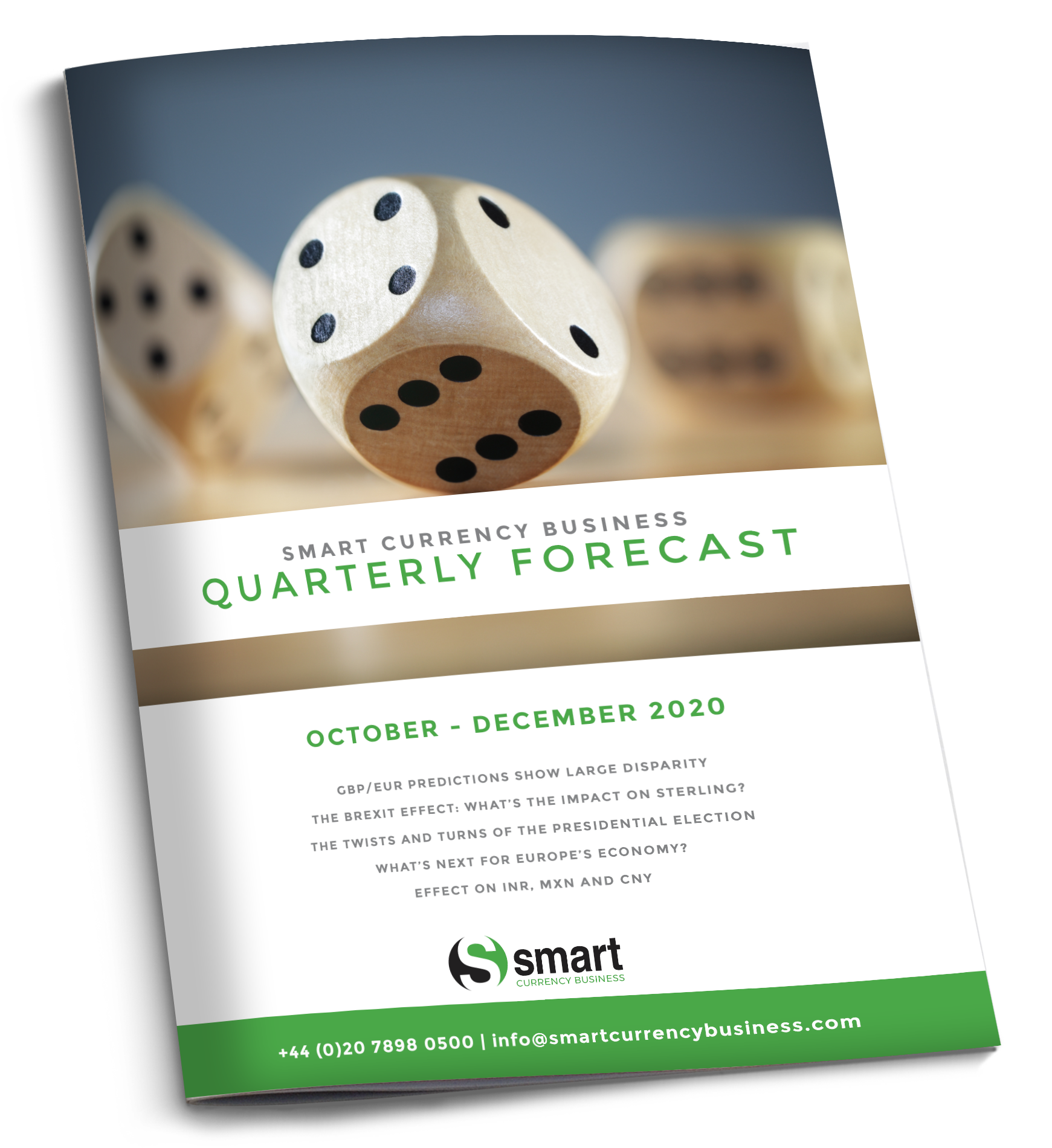 Download the latest currency forecasts
We urge you not to base any business decisions on forecasts which are, in today's world, little more than guesswork.
Smart's traders have the expertise to discuss these issues with you for an educated, experienced, independent view of the currency markets. But our strong view is that currency risk management should focus on protecting your business from any and all market movements, 100% independent of any market view.
This set of forecasts, covering the 1, 3, 6 and 12 months ahead, is fascinating:
Your forecast includes readable analysis of upcoming political and economic events that will impact your currency transactions and your profits.
Our Senior Risk Management Analyst has also added a fresh layer of analysis to the document. See if you agree with him!
We also include insightful snapshots of the Chinese Yuan, Mexican Peso and Indian rupee.
What's next for your business?
In this climate of uncertainty, how should you plan for the future?
Our team can help. Please don't hesitate to call us if you have any questions on 020 7898 0500.
What our clients and partners say about our Forecasts:
"Excellent. I get a few forecasts from different companies and Smart's is the first I download"
"Simple and easy to read"
"Clearly illustrated and very informative"
For further information on how Smart Currency Business can help protect your profits and expand your products and services internationally, email
us at info@smartcurrencybusiness.com or give us a call on
020 7898 0500

.