April to June 2021 Currency Forecast
Will vaccination programmes unlock the global economy this quarter?
The past year has proved that recovery is rarely linear. Uncertainties surrounding vaccine supplies and infection rates remain and as always, this uncertainty is reflected in the currency markets.
As the UK continues its 'roadmap to recovery', how will the currency markets respond? The major banks have quite a task on their hands when it comes to predicting the pound's movements this quarter.
Download your copy of our Quarterly Forecast now!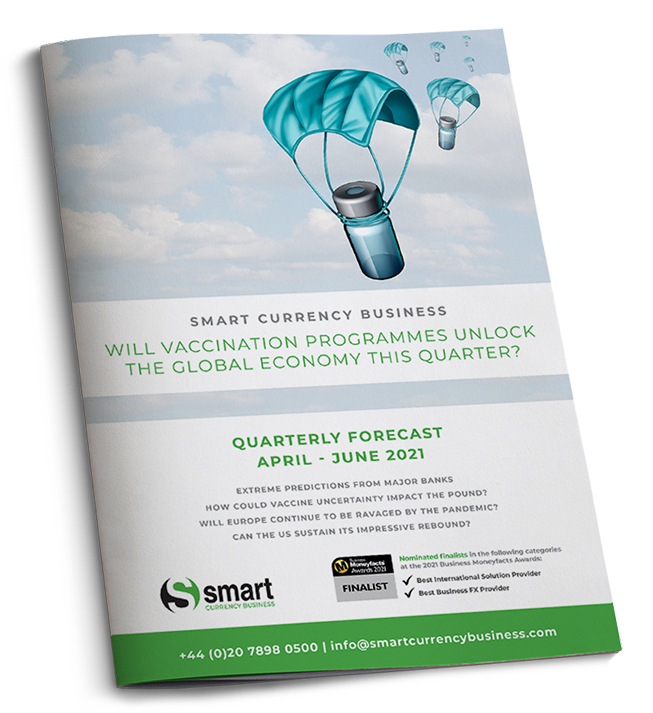 Download the latest currency forecasts
We urge you not to base any business decisions on forecasts which are, in today's world, little more than guesswork.
Smart's traders have the expertise to discuss these issues with you for an educated, experienced, independent view of the currency markets. But our strong view is that currency risk management should focus on protecting your business from any and all market movements, 100% independent of any market view.
This set of forecasts, covering the 1, 3, 6 and 12 months ahead, is fascinating. In this Forecast you will find:
Extreme predictions from major banks
How could vaccine uncertainty impact the pound?
Will Europe continue to be ravaged by the pandemic?
Can the US sustain its impressive rebound?
What's next for your business?
In this climate of uncertainty, how should you plan for the future?
Our team can help. Please don't hesitate to call us if you have any questions on  020 7898 0500.
What our clients and partners say about our Forecasts:
"Excellent. I get a few forecasts from different companies and Smart's is the first I download"
"Simple and easy to read"
"Clearly illustrated and very informative"
For further information on how Smart Currency Business can help protect your profits and expand your products and services internationally, email
us at info@smartcurrencybusiness.com or give us a call on
020 7898 0500

.