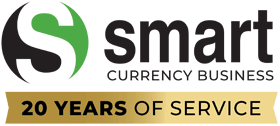 Call us today on: 020 7898 0502
Trade Finance Solutions for your business
Businesses we helped in 2015
Credit rating from Dun and Bradstreet
Trade Finance companies provide you with the funds you need to continue trading whilst bridging the gap between production, cash flow and sales income, allowing your company to continue to grow.
The benefits:
Frees up your cash flow
Provides you with funding to generate growth
Eases supply chain management
Improves business-to-supplier relationships
Allows you to manage suppliers on better terms
How can we help?
Smart Currency Business is dedicated to supporting the growth of SMEs and we recognise trade finance as a key financial service that can support this growth. The World Trade Organisation has found that 80-90% of businesses rely on trade finance as an alternative source of financing. It is not unusual for businesses to experience these type of issues, so don't let it hold your company back.
Testimonials
"I no longer have to wait for payment."
Jon, Electrical Engineer
"Has greatly increased our cash flow and profitability."
Matt, Solar Panel Importer
Enquire about trade finance
We're regularly featured in: