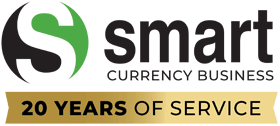 Call us today on: 020 7898 0500
Risk Management Solutions for Your Business
How Can Smart Currency Business Help You?
If your business transfers money overseas or into the UK, it is vulnerable to adverse movements in the currency markets. Through understanding your specific business needs and requirements, we can create a tailored risk management strategy to protect your business.
Solutions to help your business:
Forward Contracts: If your business has future payments or receipts in foreign currency, forward contracts are particularly useful. They allow you to lock in the current exchange rate to be used for buying or selling in the future, protecting your budget and profit margins.
Spot contracts: Our dedicated team of currency risk management experts are on hand to exchange your money into a variety of different currencies to enable you to make an immediate or urgent international payment.
Market Orders: If your business does not need to make international payments immediately but will likely have to at some indeterminate point in the medium-to-long-term, then market orders can be a useful part of your currency risk management toolkit.
Foreign Exchange Options: If implemented correctly, foreign exchange options offer an effective and flexible approach to mitigating risk and achieving better cash flows.
Get a free quote for your business today
We're regularly featured in:




How can currency fluctuations affect your bottom line?
Economic and political events can cause currency fluctuations, which have an impact on your business's profits. We can help you to manage this risk, protecting your business, your margins and bottom line. This would involve putting a tailored risk management strategy into place, which is aligned with your business goals and incorporates your business's needs and requirements.
Who is Smart Currency Business?
As an award-winning foreign exchange payments and risk management specialist, Smart Currency Business provides UK businesses with bespoke currency exchange solutions.
We offer dedicated guidance on a range of tailored strategies to help companies mitigate currency risk and protect underlying profits on their international transfers and payments.
How is Smart Currency Business different?
Unlike many of our competitors, none of our risk management experts are paid on a commission basis. We focus on client satisfaction and retention. This allows the team to take time to understand your business requirements in order to best tailor our services to you.
Benefits for your business:
Dedicated Account Manager for every client
Fast, secure and reliable currency exchange services for your business
Quick and easy account setup
Your funds are held securely in segregated accounts
Authorised by the Financial Conduct Authority (FCA)