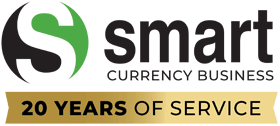 Call us today on: 020 8108 3328
EU Referendum Series By Smart Currency Business
Businesses we helped in 2015
Credit rating from Dun and Bradstreet
Years supporting businesses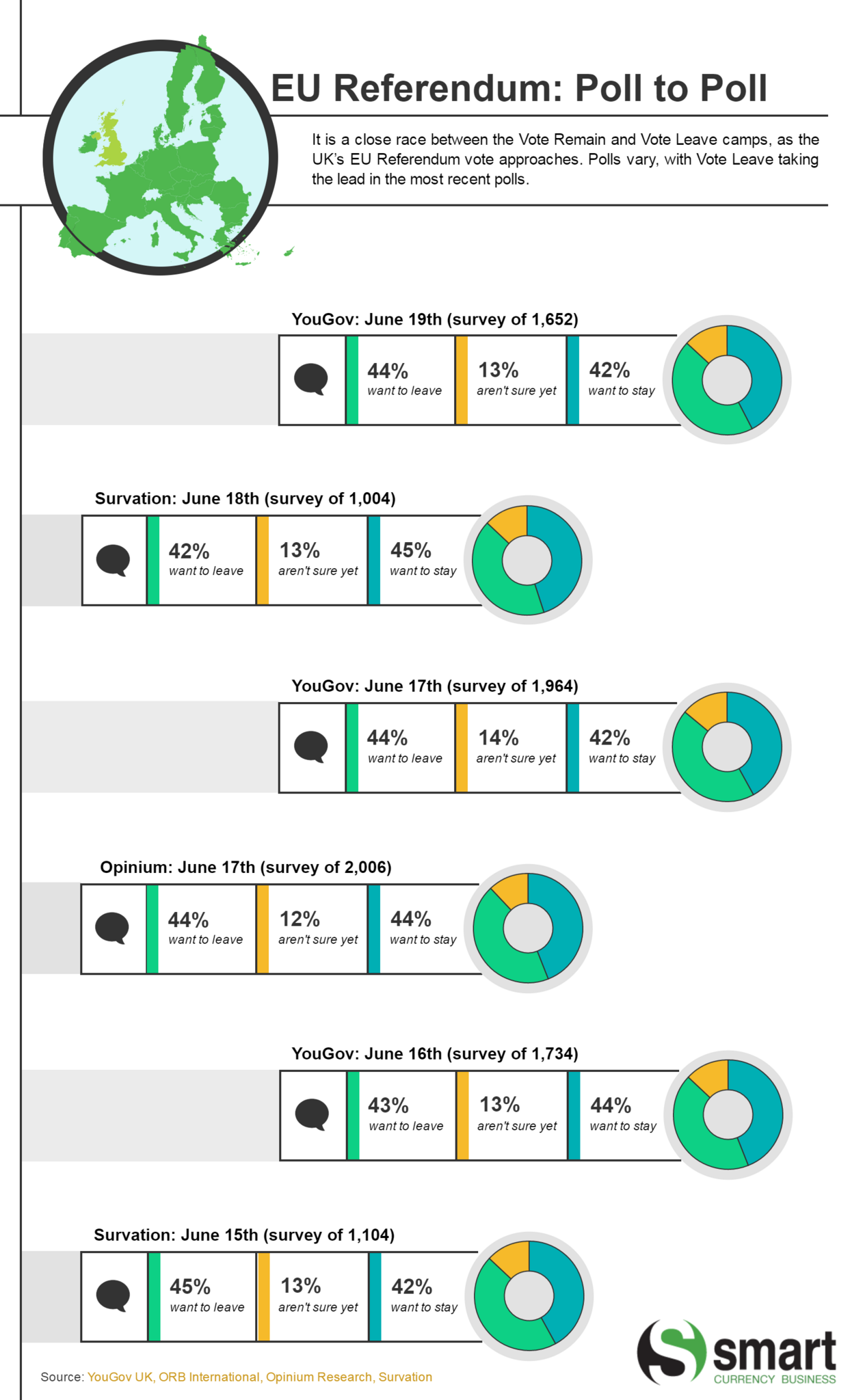 Mitigate the risk to your business from the EU Referendum
Latest poll results and infographic: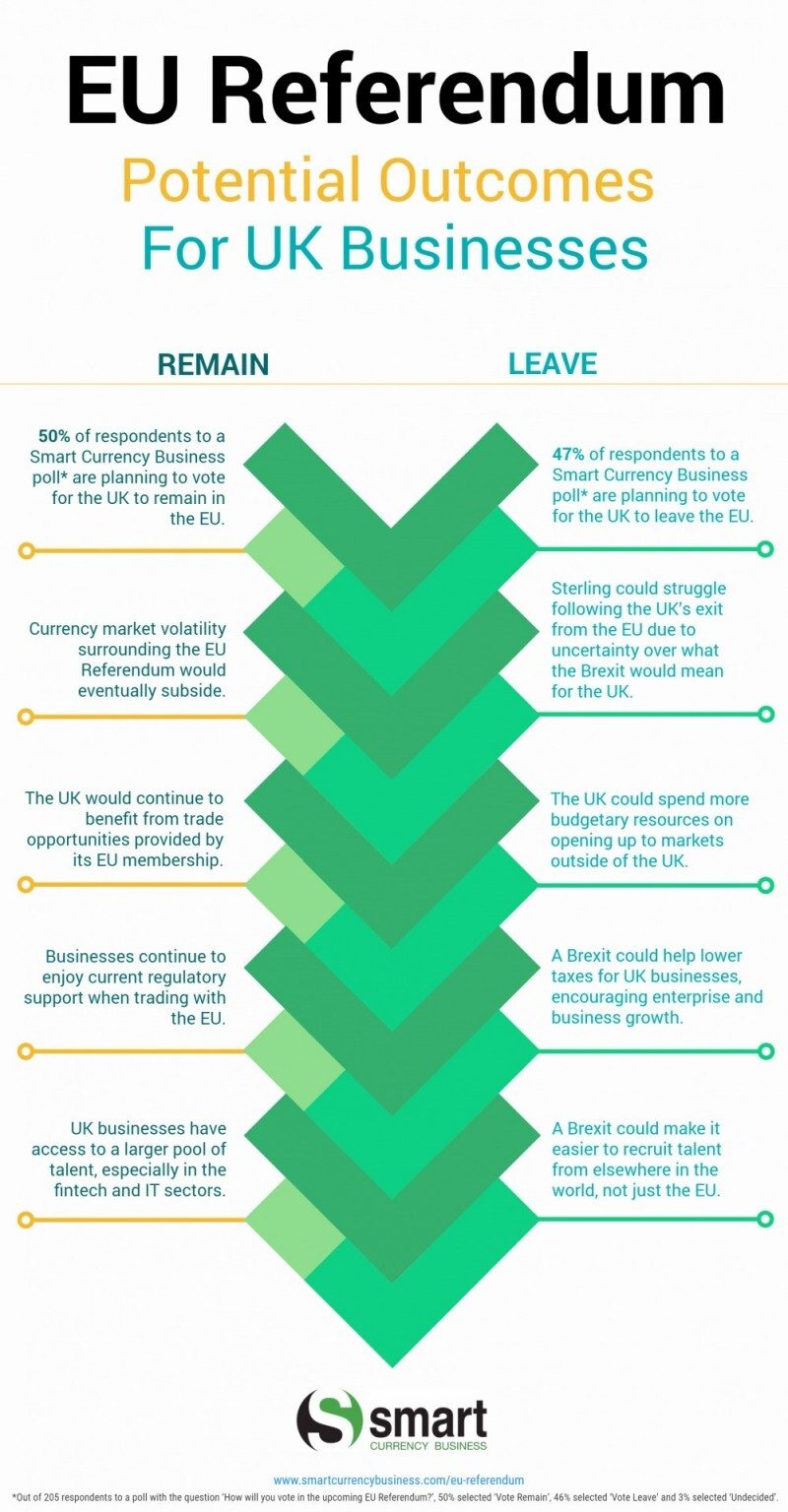 Smart Currency Business recently ran a poll on the UK's membership in the EU Referendum. The results were extremely close.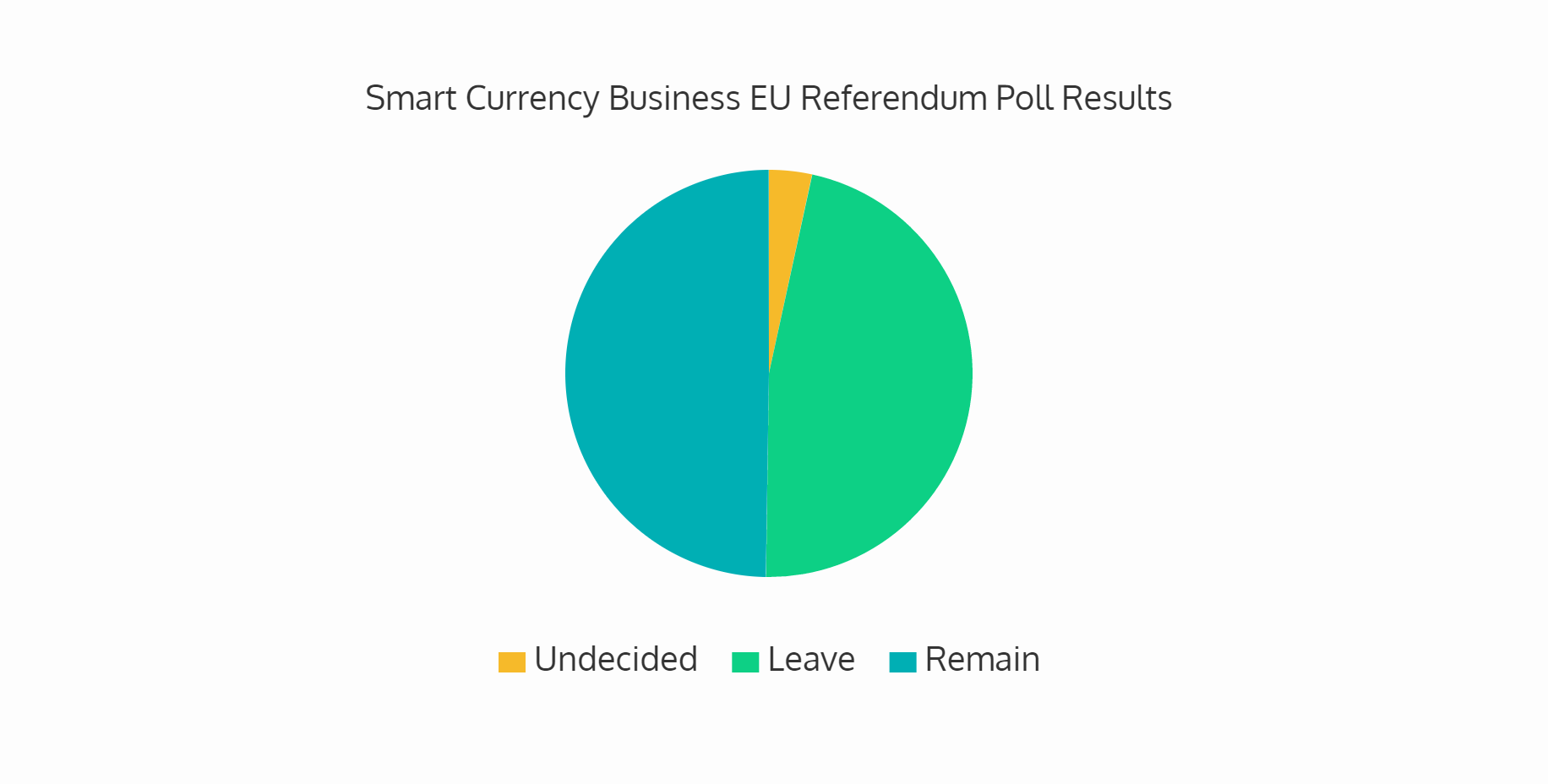 Where Do You Stand On The EU Referendum Debate?
With the EU Referendum looming close, the arguments for and against the Remain and Leave camps have been intensifying. Here are what some Smart Currency Business clients have to say:
Remain
'I passionately believe we should remain in Europe. The argument is clear on economic grounds, but as a leading global nation, we should be proudly European and fight for change, not detach ourselves and become isolationist and inward looking.' Simon Carter, Owner Simon Carter Ltd
Leave
'I am not concerned about the effects of a Brexit on business, as competition is always present, to be won by whoever is able to offer the best service and price. Business will go to the best providers, wherever they are situated.' Pinchas Rothem, Director Avisar Ltd
What is happening to your international payments?
The uncertainty surrounding the upcoming EU Referendum vote has magnified volatility in currency markets. If you would like to secure your upcoming currency purchases, please fill in the form below.
The EU Referendum & Your Bottom Line
As the 23rd June voting date approaches, the debate on whether the UK should stay in or leave the EU has been intensifying, with both Vote Remain and Vote Leave camps arguing their cases. Key business advantages advocated by both camps are as follows:
| Theme | Remain | Leave |
| --- | --- | --- |
| Trade – import and export | The UK would continue to benefit from trade opportunities provided by EU membership. These would continue to help make the EU the UK's largest export market. | Companies will still need to import and export. The UK could spend resources currently allocated to its EU membership on opening up to markets outside of the UK, especially in non-EU emerging markets. |
| Taxes | Businesses continue to enjoy current regulatory support when trading with the EU. | Could help lower taxes for UK businesses, encouraging enterprise and business growth. |
| Talent | UK businesses have access to a larger pool of talent, especially in the fintech and IT sectors. | A Brexit could make it easier to recruit talent from elsewhere in the world, not just the EU. |
What Does This Mean For International Payments?
Based on the run-up to the 2014 Scottish Independence and 2015 UK General Election votes, as well as recent market conditions, this is what is likely to happen to currency markets:
Sterling markets will continue to be volatile in the run up to the EU Referendum vote.
Swings will be either way – if you are purchasing currency when exchange rates are unfavourable, this will have an adverse effect on your bottom line.
If the UK leaves the EU, sterling could struggle further, weakening significantly. Some commentators have 'warned' that sterling could weaken by 15-20% when compared to current levels, but this does seem extreme.
What Can You Do?
If you have business-related international payments, ongoing and upcoming market fluctuations could mean losses to your bottom line. Fortunately, there are strategies that you can put into place to minimise these losses. To learn more about how you can mitigate risk from the EU Referendum vote and minimise the losses on your profits, get in touch with us as soon as possible by completing our short form below.
Everything you need to know about the EU Referendum
How will the EU Referendum affect your international payments?
The UK votes on whether to stay or remain in the EU on Thursday, 23rd June 2016. As we saw in the run-up to the Scottish Independence Referendum vote in 2014 and the UK General Elections in 2015, periods of uncertainty before a vote on political or economic change can wreak havoc in currency markets.
What could happen following the EU Referendum?
A vote for the UK to stay in the EU would mean retaining the status quo. However, a vote to leave the EU would open up a wide range of unknowns for UK businesses. These will have a direct impact on currency market fluctuations. An 'out' vote could cause a short-term drop in trade-weighted sterling by about 10-20%. Given that the UK economy is a key player on the world's stage, uncertainty in the UK will also have reverberations on the global economy. This would have a ripple effect on other currencies.
What impact will the EU Referendum have on your bottom line?
Whichever way you stand on the issue of the UK's membership in the EU, the risks on the downside outweigh the risks on the upside.
This means that whatever you could gain from sterling strengthening is outstripped by whatever you could lose in the event of sterling weakening drastically.
What can you do to reduce risk from the EU Referendum?
If your business has any upcoming international payments, you can secure your currency exchange rate in advance.
To learn more about how you can mitigate risk from the EU Referendum and minimise the losses on your profits, get in touch with us as soon as possible.
Your dedicated consultant will discuss the appropriate defence strategy for your business with you in a free, no-obligation consultation.
About Smart Currency Business
Smart Currency Business is an award-winning recognised expert in international money transfers, providing UK companies with tailored currency exchange services. It offers dedicated guidance on a range of ways to mitigate risk and avoid losses on international transfers and payments. These range from simple spot and forward contracts to more sophisticated currency hedging strategies and products, including FX Options.
Smart Currency Business is also passionate about educating companies on strategic and economic issues and implications for their business, regularly providing news, insights and guides relating to currency, exports and general business matters, and has a blog on Forbes.com.
We're regularly featured in: