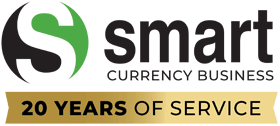 Call us today on: 020 8712 8530 
Smart Currency Business on Commercial Lending
We work closely with businesses that share our goals of helping companies to succeed. Commercial lenders are a prime example, given the importance of financing and cash flow in business growth.
By working with Smart Currency Business, you and your clients will benefit from tailored currency exchange strategies that will help to reduce and demystify currency exchange costs, streamline the process and speed of payments, improve reporting and significantly decrease the operational burden.
Working With Commercial Lenders on Currency Exchange
Smart Currency Business has been leading the way in offering tailored solutions to commercial lenders for their currency transactions. From trade finance and invoice discounting, through to asset-based lending, we fully understand the sector and variety of operations.
We appraise each business individually on its systems, processes and requirements, with a view to eliminating currency risk and optimizing strategy. In our experience implementation of one of our market-leading, bespoke strategies will bring to your business technological scale, process efficiency and recognition from your clients.
Download your free Commercial Lending Brochure
In addition to all the advantages we have outlined, we have further defined the benefits in the table below:
| | Your Business | Your Clients |
| --- | --- | --- |
|   'Straight Through' Efficiency | ✔ | ✔ |
|   Pricing Transparency | ✔ | ✔ |
|   Cost Reduction | ✔ | ✔ |
|   Additional Revenue Stream | ✔ | ✘ |
|   Protecting Profits | ✔ | ✔ |
|   Reporting | ✔ | Optional |
|   Bespoke API | ✔ | ✔ |
Alternatively, contact us on 020 8712 8530 and speak to one of our currency experts who would be happy to help.